Our Bachelor of Arts degree balances a comprehensive education in Theatre Arts with the flexibility necessary for students to craft individual programs of study. You will be exposed to some aspect of all of the facets of theatre while having the opportunity to concentrate as deeply or as broadly as you like in specific areas. This degree invites you to be a life-long learner and lover of theatre, while contemplating theatre's role in society and while honing the skills necessary for you to achieve the goals you set for yourself. A BA in Theatre Arts pairs easily with a minor or second major by connecting the study of theatre to the larger liberal arts context of our university.

Theatre Arts students learn both in the classroom and in production. As a BA major, you will be eligible for performance, design, and production opportunities in all of our mainstage shows, as well as in our student-run companies, Ghostlight Repertory Theatre and Ole Miss Student Dance, where you can even pursue opportunities to produce, direct, write, choreograph, and create your own work.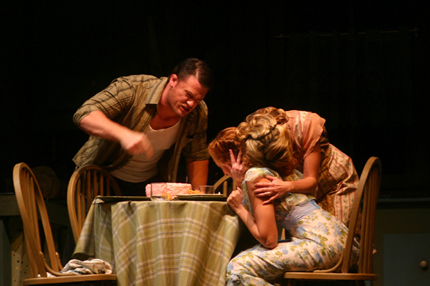 Due to the holistic nature of your training, upon graduation you will have a well-rounded, liberal arts education that modern employers seek. Theatre teaches collaborative project management on a fixed timeline and limited budget, and the BA degree allows you to set your own specific goals and work with faculty on a plan to achieve them. Your individually tailored course of study; your experiences in performance, design, and production; and your academic work in theatre history and literature will allow you to build toward a variety of careers in the performing arts or to transfer your skills into any other career you choose.

What do our BA majors study? The answer is as varied as they are.

---If your passion is performance, you can enroll in a multi-semester actor training sequence as well as classes in film acting, movement, voice, Shakespeare, stage combat, and dance.

---If your interests lie on the design & technology side, you will train in stagecraft, costuming, and lighting technology, while also having the opportunity to pursue specialized courses in rendering, computer assisted design software, and advanced theatrical design.

---If your dreams are in motion pictures, you can pursue both academic and practical courses in cinema studies and production, including film history & theory, lighting for screen, directing, editing, and screenwriting. You can even declare an Interdisciplinary Cinema Minor. In the meantime, you'll be busy making movies of your own for the UM Cinema Competition, which gives out cash prizes and screens films by students each year.

---If you want to run the show and take creative ownership, whether as a director, stage manager, arts administrator, dramaturg, filmmaker, choreographer, teacher, or performing artist, you will find a comprehensive training in history, theory, and practice.

Our aim is to provide you with a firm understanding of performance's role in society, to help you articulate your goals within the artistic community, and to support you as your create the roadmap to your own personal success.