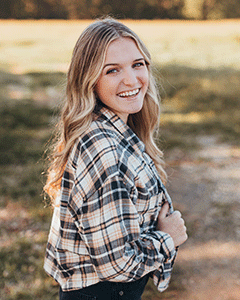 Alyssa Sheppard

Alyssa is majoring in Theatre Arts with an emphasis in Stage Management. On campus, she is a member of the UMPROV Troupe, Ghostlight Reparatory Theater, Phi Theta Kappa, and is a Phi Mu Fraternity Sister. She has performed in and participated as a sound tech, set designer, and backstage crewmember in over 20 community theatre productions.
Why did you choose to attend UM?
I chose to attend Ole Miss because it kept me close to home and also allowed me to figure out my goals and plans for college. I didn't expect to fall in love when I got here!

When and how did you choose your major?
I originally was planning to major in Management (starting in general business), but eventually realized I was going to miss my hobby in Theatre way too much to give it up forever. I planned to come in as a performance major, and along the way found a love for technical theater and stage management. I now am doing both technical and performance theater! I have to declare a minor soon, and I am looking at either a minor in language, psychology, or a media art because they all pair well with my major and are things that will be useful in the long run of my career! I haven't made my final decision yet though :)

What would you tell a high school student about your major? What is most important for them to know if they're interested in pursuing that field of study?
What I would tell someone interested in my major is that it is as time consuming as you allow it to be. You can be involved in the theatre for one class a week, or you can be there all day every day. It is completely up to you and what time you want to dedicate to the department. The professors are understanding, you just have to be honest with them about what you want to do. It isn't easy to do both technical and performance theater, but because I was up front about it, we made it work the best ways we could. Lastly, I would say don't judge a book by its cover. Our theatre is not the biggest department in the state or in the south, but it is quite literally a hidden gem. We have professors with experience and knowledge to share, facilities ready to perform in, and students eager and willing to learn. It allows for more experience in your underclassmen and upperclassmen years rather than some conservatories where everything will go to upperclassmen automatically. We are conservatory style within the BFA, so it will keep you busy and entertained, but for a reason.

Why is your department a special place?
Our department is a special place because we are all like a family. Our theatre building is like a second home for a lot of students, we will go eat every meal in there to be with our friends. When I went through some personal losses, my friends and professors were all so understanding and always there for me, whether that was to talk, cry, laugh or vent. They were all so understanding and see us as people, not just as numbers.

What are your 3 favorite things about your major/department at UM?
1: Family environment 2: The energy we give off to each other 3: Opportunities and experiences

Can you tell me about a professor or a class you've taken that has had the most impact on you?
This is probably the hardest question I have had to answer. If I had to limit my freshman year to one professor that has had the biggest impact on me it would be Raey Bagley. They are our department's production manager, and they also teach all of the stage and production management courses. I have taken (and am continuing the trend next year) at least one of their classes every semester, as well as working on a school production with them outside of class. I have learned not only a lot about how to be a stage manager with them, but also about life and communication skills. Freshman year is a hard time for everyone. You are going through changes from high school to college, making and losing friends, and finding yourself. Raey helped me try to get smoothly through this transition by showing me safety and communication methods that are used in the stage management world. They may have some tough love every now and then, but they will always get you where you're meant to be at the end of the day.

What has been one of your most memorable or enjoyable moments at UM?
One of my most memorable moments at UM was meeting my best friend through Ole Miss Study Abroad. Jay was a student in our Theatre program and we met the first day of classes. Over the year, we got to know each other and learn about each other's stories. Making friends for me had always been a difficult task, but Jay and I clicked instantly. We were both each other's first friends here and that created an instant bond between us. I learned so much from him and his story getting to Ole Miss, and now I am even looking into doing a study abroad myself to get to explore, make friends and learn more about myself before graduating and going into a career.

What do you hope to do after you graduate? What are your career goals/ plans for postgraduation?
After I graduate I plan to become a professional stage manager with a regional or traveling theatre company. I hope to move to a theatrical hotspot such as New York or Los Angeles and to continue my career there for a few years as I build my resume and experience.

Apart from school, how do you spend your time in Oxford? What are your hobbies, favorite places to go, etc.?
Apart from school, I spend a lot of my time either with my sorority, attending social functions or meals in the house, or out with my friends for meals pre/post rehearsals. We spend a lot of time in the theatre whether its preparing for a show coming up or filming tapes for a new audition. We love to go eat after events (usually its late enough our only options are Waffle House and Cook Out but it's always a great bonding event waiting in line!)

What is your go-to meal in Oxford?
I am a sucker for Chickfila, but Oby's has my heart. Brownie Fishbowl!!!

What are you binge watching or reading right now?
Currently re-watching Grey's Anatomy, just finished Manifest, and halfway through the ACOTAR book series!

What are some dream travel destinations?
Greece, London, Iceland, Bora Bora, and Italy!

What is one thing you wish you knew as an incoming freshman that you'd tell your past self?
It is not as scary as you think it is! If you know how to commit yourself and set aside at least SOME time to work on your school things, you will be fine! Make school fun, have study dates with friends who will actually get work done with you and hold you accountable. Be honest with your professors: if you ask for help they will be more likely to help you. Follow up on emails! Just because they didn't respond the first time doesn't mean they won't, they may have just missed your first one :). Follow your heart. Trust your gut. Don't force yourself to do ANYTHING to fit in. Take it seriously, but not too seriously. Have fun, let yourself loose sometimes, but still stay on top of your work. Find the right balance for you!