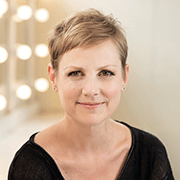 Assistant Professor of Movement for the Actor

Lauren Bone Noble is Assistant Professor of Movement for the Actor in the Department of Theatre and Film. Lauren earned her MFA from the National Theatre Conservatory and a BFA from the University of Memphis. Lauren has studied Lecoq based movement styles with Giovanni Fusetti, Charlie Oates, Susan Chrietzberg, David Bridel and Ronlin Foreman.

Professionally Lauren has performed both on and off Broadway, regionally at Studio Arena Theatre, The Denver Center Theatre Company, Portland Stage Company, Milwaukee Repertory Theatre and Arkansas Rep. Lauren has also worked internationally at Vienna's English Theatre. Television credits include Law and Order, Law and Order: Criminal Intent, Guiding Light, All My Children and over 30 national network commercials. Lauren is represented by KMR Talent in New York City.

Academically Lauren has taught workshops at Vassar College, Niagara College, Queens College and Rhodes. She taught for nine years at the State University of New York at New Paltz, directing her gender bent Julius Caesar, A Midsummer Night's Dream, The Servant of Two Masters and parts 1 -3 of The Every 28 Hours Plays. At New Paltz Lauren received the 2017 Chancellor's Award for Excellence in Adjunct Teaching and the 2020 Mentor Award.

Lauren has written and performed her own one person show FURY! at the Phoenicia Fringe Festival and at the Denizen Theatre. Lauren's play (suff)RAGE has been work shopped at Seattle Public Theatre.

Areas of Specialization: Lecoq based movement, clown, improvisation and acting styles.