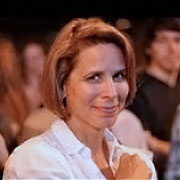 Professor of Movement & Dance

Jennifer Mizenko is a Professor of Movement for the Actor and Dance at the University of Mississippi, where she has run the Theater Department's dance program since 1989 and the movement program since 1996. Jennifer's duties include teaching jazz and modern technique classes, plus dance composition, dance appreciation, movement for the actor, and directing the university dance company, Mississippi: The Dance Company. Throughout her tenure at Ole Miss, Jennifer has continually enhanced her skills as a movement instructor. Graduating with a BA in Psychology from Kenyon College, and an MA in dance from The Ohio State University, Jennifer has gone on to combine these to areas of interest and bring them to her teaching and choreography. Her expanded studies have included period dance with Wendy Hilton and Richard Powers, plus the study of T'ai Chi with Maggie Newman. In 2001 Jennifer achieved certification as a teacher in the Alexander Technique at the Alexander Alliance in Philadelphia, PA and is a teaching member of Alexander Technique International. She was also certified as a Laban Movement Analyst at The Laban/Bartenieff Institute of Movement Studies in New York City in the same year.
Her dance technique studies have been with Erick Hawkins, Susan Van Pelt, Heywood "Woody" Magriff, Chet Walker, and Ralph Lemon.  Jennifer has taught Master Classes in Italy, England and throughout the United States. Her choreography has been recognized twice by the American College Dance Festival Association (ACDFA), for outstanding choreography and performance. In 2004 Jennifer was the project director for the Racial Reconciliation Choreography Project, commissioning choreographer Dwight Rhoden to create a new work based on racial reconciliation at The University of Mississippi and the Oxford/Lafayette, MS communities.  The work created is entitled Before Now and After Then, and was selected by the National College Choreography Initiative/NEA and ACDFA to be performed at The Kennedy Center for the Performing Arts in June 2004.
Jennifer's recent movement studies have been an investigation of Grotowski Physical Theatre, attending intensive training workshops in Poland with Teatr Piesn Kozla and Anna-Helena McLean, founder and Artistic Director of the Moon Fool Company. Jennifer is currently combining her knowledge of The Alexander Technique and Laban Movement Analysis, as well as Grotowski methods creating an exciting comprehensive approach for the training of dancers and actors. Ms. Mizenko served as the Chair of Alexander Technique International 2007-2011 and has presented internationally at Laban and Alexander conferences and is recognized by the International Somatic Movement Educators and Therapists Association as a Registered Movement Educator and currently serves as a Board Member for the American College Dance Festival Association. Jennifer Mizenko is the co-author of the recently published The Laban Workbook for Actors: A Practical Guide with Video.
Areas of Specialization
Jazz, modern, dance composition, Alexander Movement Technique for the actor, Laban Movement for the Actor, movement and mask for the actor