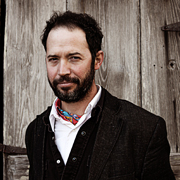 Instructional Assistant Professor of Scenic Technology

Jared, a native of the Mississippi Delta, is a designer and sculptor who received his MFA in Theatre Design from the University of Mississippi in 2005. Jared was a co-recipient of the Mississippi Governor's Award For Excellence in the Arts in 2002. In 2010, Jared received a special achievement award from The Mississippi Institute of Arts and Letters for his work on The Passions of Walter Anderson: A Dramatic Celebration of the Mississippi Gulf Coast Artist. A video documentary featuring Jared's traditional stone-carving techniques is housed in the Rinzler Archives of the Smithsonian Institution's Center for Cultural Heritage and was featured as part of the 2005 Smithsonian Folklife Festival in Washington, D.C. 

His sculpture and paintings are featured in private and public collections around the United States and he and his work have been featured in newspapers, magazines, and on national television. Jared also illustrates textbooks and generates architectural renderings, most recently for Southern Living Magazine's Idea House series.