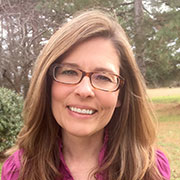 Associate Professor of Costume Design

Carey Hanson received a Master of Fine Arts degree in costume design from Utah State University. Her costume experience has covered a wide range of theatre, dance, opera, musical theatre, and theatre for youth. Carey has worked professionally with The Santa Fe Opera, Utah Opera, Utah Festival Opera and Musical Theatre, Unicorn Children's Theatre, Sundance Summer Theatre, Old Lyric Repertory Company, The Harper Joy Theatre, and Playmill Theatre-Jackson. Her most recent designs include The Elephant Man, Oedipus the King, Urinetown, And Then There Were None, Hair, The Mystery of Edwin Drood, and Six Characters in Search of an Author. Carey received a Kennedy Center/ACTF Faculty Design Nomination for Oedipus the King.

On a national level Carey most recently served as Vice Commissioner of the United States Institute for Theatre Technology Costume Commission. Beginning July 2016 she will begin her 3 year term of service as a Director on the USITT's Board of Directors. She has also been included in Marquis Who's Who publications the past five consecutive years due to her work in higher education.

In addition to the courses Carey teaches on the University of Mississippi campus, she has developed study abroad courses dedicated to exposing students to theatre performance and design in London, England, and Sydney, Australia. The history of early American children's wear, patterns, and production is the focus of her academic research. She has traveled abroad and throughout the Eastern United States in order to gather primary information for her continuing research.
Areas of Specialization
costume design: costume for the theatre, dance, opera, musical theatre and theatre for youth; research on children's wear; textile production; armor creation; millinery, wig ventilation, and fabric modification (batik, silk screening, silk painting, theatrical distressing, and fiber-reactive dye).