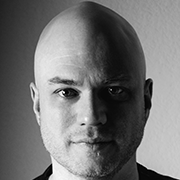 Instructional Assistant Professor of Musical Theatre

Bryan McAdams is a professional music director, keyboardist, music producer, vocal coach, composer/lyricist and educator who has worked and performed in 15 countries as well as most of the United States. His credits as music director and/or associate conductor include Grease (Equity 1st National Tour with Taylor Hicks), Rock Of Ages (1st/2nd National Tours), Rock Of Ages (Las Vegas, Original Music Director, 1,200 performances), Elton John's Billy Elliot (Equity 2nd National Tour), Kiss Me Kate (2nd National Tour) and Tenors Of Rock (Theatrical Rock Concert). He was most recently seen as the original music director of Nikki Sixx's The Heroin Diaries at its world-premiere National Tour workshop in NYC.
McAdams has additionally music directed over 30 off-Broadway, regional, or university productions including State Fair, 42nd St., Evita, She Loves Me, Jesus Christ Superstar, Spring Awakening, Company, Captains Courageous, Once On A Summer's Day, Disaster!, Fade Out Fade In, Oliver! The Apple Tree, Spoon River Anthology and more. At the university level McAdams has music directed at The Boston Conservatory, Harvard University and Western Carolina University where he was a visiting assistant professor of musical theatre.
As a composer, lyricist and book-writer McAdams has had his original music premiered at Lincoln Center (NYC), Harvard University, The Theatre Building (Chicago), The Boston Conservatory, Festival56 and Dixon Place (NYC) and has music-directed and performed with rock bands in famous NYC venues such as CBGB, The Bitter End and Arlene's Grocery. He arranged and produced the debut EP of Broadway singer Justin Mortelliti which resulted in national radio play for the single My Silver. He is a classically-trained pianist with a cum laude degree from The Berklee College Of Music in Boston where he studied songwriting, composition and piano while also pursuing drama studies at The Boston Conservatory.
Some of the many artists, designers and directors McAdams has been fortunate to work with include Terrance Mann, Carrie St Louis, Colt Prattes, Emily Padgett, Lauren Ashley Zakrin, Kelly Devine, Kristen Hanggi, Seth Rudetsky, Justin Mortelliti, Scott Schwartz, Taylor Hicks, Celina Nightengale, Brian Crum, Beowulf Boritt, Constantine Maroulis, Ruby Lewis, Rebecca Faulkenberry, Angie Schworer, Anne Nathan and David Esbjornsen.