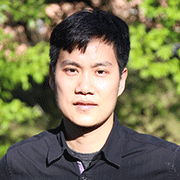 Instructional Assistant Professor of Lighting Design

Yi-Tai Chung is an artist working with light. Chung has designed lighting for classical and new plays, musicals, opera, dance, and commercial events throughout Taiwan and the United States for ten years. Momentum, his recent dance lighting design presented by Dance Repertory Theatre, won the Austin Critics Table Award for Best Dance Ensemble in 2017. His previous lighting design at the Butler Opera Center for the opera Dialogues of the Carmelites was selected for the World Stage Design 2017 Exhibition. To further his artistic expression, he also practices photography. He has documented over 30 theatre productions since 2010. His photographs have appeared at many portfolio showcases and in Theatre Design& Technology Journal.
Chung grew up in Taipei, Taiwan, where he has worked as a lighting designer, stage
manager, and artistic director since 2009. He received his MFA in Design and Technology at
the University of Texas at Austin. His thesis project, Visualizing Invisible Cities, investigates
how content in stories arouses and translates into different art forms including writing,
photography, installation, and lighting design. To see his work, please visit yitaichung.com.