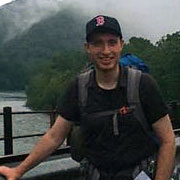 Instructional Assistant Professor of Lighting Design

Max earned his MFA in Lighting Design from the University of Maryland, where he also taught Lighting Design and Theatre Graphics. Regionally, Max has designed or associate designed lighting for Woolly Mammoth Theatre Company, Mosaic Theatre of Company of DC, The Shakespeare Theatre Company and The Shakespeare Theatre Company Academy of Classical Acting, Forum Theatre, Maryland Opera Studio, Olney Theatre Center, Signature Theatre Company, Folger Theatre, Pointless Theatre Company, NextStop Theatre Company, Adventure Theatre, The Merry-Go-Round Playhouse, The New Ohio Theatre, Ars Nova, The John F. Kennedy Center, The Hangar Theatre, Access Theatre, New World Stages, Theatre Saint Clements, Ford's Theatre, The Fulton Theatre, The Pennsylvania Shakespeare Festival, and 3-Legged Dog NYC. As an assistant designer he has worked on and off Broadway, including The Front Page this fall.
Max has lit Wine Lovers The Musical aboard cruise ships both domestically and abroad, and worked in television broadcasts as Lighting Director for several shows including Anderson Cooper 360 and Piers Morgan Live. As a draftsman he has prepared construction, system, and hang documents for broadcast clients including ABC, NBC, CNN, Bloomberg Television, Yahoo, and Fox News.
Max is a proud member of United Scenic Artists, IATSE Local 829. When not in the theatre, Max enjoys hiking and backpacking, or a good Bill Bryson book. His personal website is www.maxdoolittledesign.com