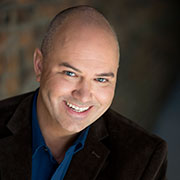 Adjunct Professor of Performance

Matthew R. Wilson serves as Adjunct Professor of Performance and works around the world as a professional actor, director, fight director, scholar, and instructor. He is a proud member of Actors' Equity Association, Screen Actors' Guild / American Federation of Television & Radio Artists, Stage Directors and Choreographers Society, Society of American Fight Directors, and Association of Theatre Movement Educators. He is a Helen Hayes Award winner and five-time nominee, and he has taught internationally, including serving as a guest artist/instructor at NYU, Columbia, Northwestern, Georgetown, and theatres, festivals, and schools around the world.

Matt began his professional theatre career in 1997 with the Nashville Shakespeare Festival and has since worked across North America and Europe.  In New York City, he has performed at 45 Bleecker (Hecuba with Kristin Linklater), Tribeca Playhouse, Cherry Lane Theatre, La MaMa ETC, John Houseman Theatre, New York Comedy Club, and others.  Regional stage credits include the Kennedy Center, Folger Theatre, Baltimore Shakespeare Festival, New England Shakespeare Festival, Shenandoah Summer Music Theatre, Clarence Brown Theatre, and more. Matt made his television debut on As the World Turns and recently appeared opposite Kevin Spacey in the Netflix original series House of Cards. As a director, he has helmed world premieres and established classics, including The Lieutenant of Inishmore (Constellation Theatre Company); One Man, Two Guvnors (1st Stage); Much Ado about Nothing (Chesapeake Shakespeare Company); and Our Town (Faction of Fools). An avid Shakespeare fan, Matt has been honored to play some of the Bard's most iconic roles, including Hamlet, Malvolio, Romeo, Benedick, Sir Andrew Aguecheeck, Oberon, Autolycus, and Touchstone. He has also directed versions of Hamlet, Romeo & Juliet, Troilus & Cressida, Pericles, Titus Andronicus, Much Ado about Nothing, and A Midsummer Night's Dream and choreographed fights for many others. A Certified Teacher with the Society of American Fight Directors and a member of the International Order of the Sword and Pen, Matt has killed people on stage with swords, knives, pikes, guns, ropes, clubs, bathtubs, and shovels. He has also died many times himself. Favorite fight direction credits include Macbeth, Women Beware Women, 'Tis Pity She's a Whore, The Fifth Musketeer, and Life is a Dream. He has taught at SAFD national and regional workshops and at the Paddy Crean International Art of the Sword Conference, and he authored a chapter on stage combat for the book Movement for Actors (Allworth, 2016).

One of America's leading experts in Commedia dell'Arte, Matt founded the award-winning Faction of Fools Theatre Company in Washington, DC and served as its Artistic Director from 2009 to 2015. Prior to that he taught for six years at Antonio Fava's Stage Internazionale di Commedia dell'Arte in Reggio-Emilia, Italy. He tours the world with his own The Great One-Man Commedia Epic, and his publications include A Commedia Christmas Carol (Playscripts, Inc., 2013) and two chapters in The Routledge Companion to Commedia dell'Arte (Routledge, 2015). His PhD dissertation focuses on the history and practice of Commedia dell'Arte from its Renaissance origins to contemporary performance. For more on Matt's current projects, visit www.MatthewRWilson.com.
Areas of Specialization:  Acting, Movement, Commedia dell'Arte, Stage Combat, Directing, Shakespeare, Theatre History & Theory, Comedy, Mask, and Performance Studies