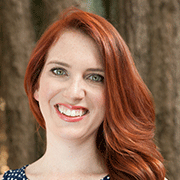 Visiting Assistant Professor of Scenic Design

Mandy L Goynes is a Scenic Designer, Theatrical Artisan, Artist, and Teacher. Her undergraduate degree came from East Carolina University, where she graduated Magna Cum Laude with a Bachelor of Fine Arts in Theatre Design and Production. She received her graduate degree, a Master of Fine Arts in Theatre Scenic Design at Temple University. Mandy has worked as a Scenic Designer all across the country on an array of stages and shows including musicals, dramas, traveling children's shows, and dance shows. On top of her experience as a Scenic Designer she has also been a professor for over 5 years and has worked as a Paint Charge, Technical Director and Scenic Carpenter. Mandy puts everything into her work and won't settle for anything less than the best.

Mandy prides herself on her ability to be a well-rounded designer. She worked for the theming company SRO Associates as a Designer and Draftsman. This gave her a wonderful opportunity to expand her skills into the worlds of theme parks, museums, conventions, and fairs. She has also designed a children's museum and theme park as conceptual projects. She studied in an architecture school before transferring to the theatre, which allowed her to become skilled at hand drafting and model building. In addition to her work in the theatre, she carries her love of art into everyday life; working on paintings, murals, sculpting, and decorating. Mandy was born in Texas and raised in New Mexico. She has lived all over the US including stints in North Carolina, Ohio, New York, Pennsylvania, and Texas.
Mandy earned her Teaching in Higher Education Certificate in 2016 from Temple University.